North Sacramento Weekly Crime Reports
The following information is taken from the weekly captain reports that are sent for Police Districts 1 and 2. This information is provided so you can have a timely snapshot of significant events in our community. It is our intention to list suspect apprehensions and crimes of interest (i.e., robberies, assaults, burglaries, homicides), traffic enforcement efforts, and other information that would be of interest to the community. The crimes reported here are preliminary investigations, taken in the field by patrol officers, and may or may not be assigned to a Detective for further investigation. 
If you observe a crime in progress call 9-1-1. For non-emergency incidents, call (916) 808-5471.
If you have information regarding some of the above crimes please call Crime Alert at 443-HELP or 1-800-AA-CRIME. (You can remain anonymous)
April 19, 2019
District 1
 19-105702 /  Ainger Cir / 1A / 927-Shots / 0147 hours
SPD responded to Ainger Cir regarding eight gunshots in the area.  Officers located 10 spent casings in the street.  Information forwarded to North-GET Shot-Spotter. 
19-106359 / 496B & Pursuit / 3531 N Freeway / 1702 Hours / 1A
Officers were alerted to the above location regarding an SPD Bait Laptop that had been taken.  The GPS indicated the property was in a vehicle and traveling towards HWY 80.  Initially, Officers were unable to locate the item as it was unknown what type of vehicle the bait was in.  SSD Air unit responded and assisted while ground units provided GPS updates.  The GPS indicated the bait was traveling S/B Hwy 5 then E/B HWY 50.  SSD Air unit located a vehicle that matched the GPS location and directed ground units to the vehicle.  As the vehicle existed Bradshaw, Officers attempt to conduct a felony vehicle stop but the vehicle failed to yield and a pursuit ensued.  The pursuit was brief as it was put into surveillance mode due to the suspects speed and the fact we had SSD Air overhead and GPS tracking.  While in surveillance mode, the vehicle drove with zero regard to public safety as it got onto E/B HWY 50 in the W/B lanes.  Untimely, the suspect pulled over near Mather Field exit and the driver and passenger fled on foot.  Both were captured by SSD ground units without use of force.  The laptop was not located as the suspect may have thrown it out during the pursuit, however the GPS tag was still in the suspect vehicle which is why we were able track their location.  The driver was arrested on various felony evading, Auto Burglary and 182PC charges.  The passenger was arrested for 148PC, Auto Burglary and 182PC.  
19-114266 / 2020 Club Center Dr suite 100 (Ace Hardware) / 1A / 459A / 0326 hours
SPD received a silent burglary alarm from 2020 Club Center Dr (Ace Hardware).  The ALCO advised they observed two subjects inside the business but that it was too dark for a description.  Officers located a broken glass door large enough for entry.  SPD K9 was used to clear the business with negative results. 
19-115896 / 211 @ 4780 Natomas Blvd. (Marshals) / 1922 hours            [Attn: NCU north]
Sports Complex (1A)
A FWA & FBA enter the store, and selected approximately $700 worth of merchandise. After exiting the store, both FBA's were confronted by Loss Prevention and a scuffle ensued. During the altercation, one suspect throat-punched the LPO, allowing both suspects to make good their escape. Both females fled in a black 2013 Charger (CA # 7YUV567) which is registered to an apartment on College Town in Dist 6. Follow up to locate the car was negative.
19-105683 / xxxx Stonecreek Dr / 1B / 927W-Arrest / 0127 hours
SPD received a call from a subject who stated he had just fired a warning shot at a subject trying to break into his camper in the area of xxxx Stonecreek Dr.  There were multiple callers advising that shots had been fired.  SPD responded and contacted the subject who was calm and compliant.  Officers removed a .45 cal semi-auto pistol from the subject.  Arrested:  Edward Hooker 7/6/1963.
19-115971 / 503B /  Rollingbrook Cir / 2128 hours
South Natomas (1B)
SPD received a bait car activation at the above location. The suspect attempted a little spin through 1B, eventually ending up at Fairweather / W El Camino with 6 SPD units and STAR overhead. The suspect surrendered without incident.
19-105758 / 2450 Northgate Blvd (7-11) / 1C / 211 / 0320 hours
SPD received a call regarding a subject who had 484'd beer at 7-11 (2450 Northgate Blvd).  The caller advised the subject had punched him in the face and brandished a knife when he confronted the subject.  The subject fled in a black Nissan Maxima.  Suspect: MHA, short, white shirt, jeans.
1C/South Natomas/2441 Northgate Boulevard/415F-(Arson Arrest)/1101 hours/19-105990
Offiecr Gray was in the area of this 925 when he observed smoke behind the business (99 Cent Store). During further investigation, Officer Gray observed a couch on fire and a subject walking away from the scene. The subject was quickly detained. During detention the subject made spontaneous statements that he was responsible for the fire. The subject was arrested and transported to jail and arson investigators took over the investigation.
1C / 19-116840 / POD arrest
Officer Monelo responded to a POD alert where he took a subject into custody for an embezzled vehicle.
19-111664 / Northgate Blvd @ Haggin Ave / Pursuit-Arrest / 0120 hours
Officers Raleigh and Del Dotto attempted to make a traffic stop in the area of Northgate Blvd/Haggin Ave.  The driver failed to yield and a vehicle pursuit ensued.  After letting his passenger off, the driver continued to SB I-5 at Garden Highway where officers attempted to PIT his vehicle at slow speed (20 MPH).  The driver drove his vehicle off the roadway to counter the PIT maneuver.  The driver was able to gain traction and re-entered the freeway striking Officer Murchie's vehicle and continuing onto Garden Highway.  As the suspect vehicle approached San Juan Road, the driver purposely drove into gate high centering his vehicle.  The driver refused to exit the vehicle screaming "shoot me" as he reeved the engine until the disabled vehicle caught fire.   The driver climbed out of the vehicle as it became filled with smoke and attempted to flee toward a house on foot.  Officers fired one less-lethal bean bag round which struck the driver who immediately surrendered without further incident.  The driver gave the name of Juan Valdez and stated his birthday was 0/0/0000.  The driver was transported to UCD as precaution.  Arrested:  Michael Valdez 6/27/1984.
DISTRICT 2 
19-109001 / Stolen Vehicle / Norwood Ave and I-80
2030 Hrs / Robla (2A)
Ofc. McDonald and Ofc. Bowman were in the area when they observed a stolen car that had recently gone through a POD.  They were able to follow the car until enough units arrived for a felony stop.  The suspect was taken into custody without incident.
19-109105 / Shooting / Jasmine St and Harris Ave
2215 Hrs / East Del Paso Heights (2A)
At approximately 2215 hours we received a ShotSpotter activation at Willow St/Grand Ave.  As officers were responding, we received a call of a shooting at Jasmine St and Harris Ave (only a few blocks away).  Officers located multiple casings on Harris Ave.  They also located a victim on Jasmine St who had been shot multiple times, including in the chest.  He was transported to the hospital and stabilized.  While investigating another victim showed up at Kaiser North with a gunshot wound to his upper chest.  He confirmed that he was with victim #1 when a vehicle drove by and fired multiple rounds at them, unprovoked.  Victim #2 was not cooperative and eventually told the officers he was not going to talk anymore.  As of now, we do not have any solid suspect leads, but the victims have affiliation with the Tongan Crips and there may be some useful video at Rainbow Market (Night Detectives plan to follow-up).    
19-115124 / xxxx Grand Ave / 2A / 245-Arrest / 0012 hours
SPD received a call from a cab driver in front of xxxx Grand Ave.  The driver and fare got into an argument about money owed.  The fare went into the house and returned with handgun and fired it at the cab driver.  SPD dispatchers were able to hear the gunshot during the phone call.  After shooting at the cab driver the suspect went back inside the house.  Officers responded and quickly set a perimeter around the house.  After setting up a contact team officers called in and the suspect's wife and brother-in-law exited the residence.  The wife advised that her husband was intoxicated and that he may be asleep on the couch.  The brother-in-law advised that the suspect had grabbed his gun and fired it twice out front.  The wife advised that her three children (3, 11, 12) were inside the house sleeping.  Officers continued to try and call the suspect out with no response.  A SWAT/CNT/EOD call-out was made.  CNT made announcements using a recorded message from the wife which had a positive effect in that the three children exited the residence.  After continued announcements and a 'distraction device' the suspect exited the residence and was detained without further incident.  Investigating officers located a bullet hole in the cab.  Officers located and seized the firearm inside the house.  The investigation is still on-going.  Sergeant Longanecker did a fantastic job running this incident from start to finish.  Arrested:  Tobit Barajas 11/16/1983. 
19-112897 / 1587 W El Camino Ave (CVS) / 933R-459 / 0020 hours
SPD responded to CVS (1587 W El Camino Ave) regarding a ringing alarm.  Officers discovered the front glass door had been broken and per security video footage two subjects entered the store.  The subjects took a pack of gum before being scared off by the alarm.  Suspects: Unknown subjects wearing hoodies.
19-107899 / Gun Arrest / Rio Linda Blvd and Sonoma Ave
2252 Hrs / South Hagginwood (2B)
Officers Mills and MacLean made a traffic stop and contacted four occupants in the car.  During the contact, they located a loaded revolver on a female passenger.  They were able to do further investigation, determine that the gun actually belonged to a probationer in the back seat.
19-114997 / 3271 Marysville Blvd (Hagginwood Park) / 2B / Arson / 2115 hours
Officer Strickland observed a fire in a trash can inside Hagginwood Park.  Officer Strickland went to investigate and discovered two more fires within the park.  Arson investigators were advised.
2B/Wills Acres/2756 Grove Ave./211T-(Robbery: Suspects Outstanding)/1131 hours/19-117725
Complainant advised that she was at the food bank when she got into an argument with two adult females (FWA, 50's wearing a tank top  & FBA, white shirt, black pants).  The females followed the complainant down the street and then started to physically attack her.  At one point, one of the suspects sprayed the victim with OC and the suspects took her cell phone and some of the food that she had acquired from the pantry.  An unknown subject driving a red pickup truck (possibly a Tacoma, unknown plate) drove up and the suspects fled in the vehicle eastbound on Lampasas Ave.  A canvass by officers was negative.
19-118491 / xxxx Palmer St / 2B / 211-Gun Marijuana / 2253 hours
A marijuana delivery person responded to xxxx Palmer St to deliver a marijuana order.  As he knocked and waited for an answer three (3) MHA's approached him and displayed a gun.  The suspects took the victim's wallet, cell-phone, and marijuana.  The suspects tossed the victim's phone as they fled the scene.  Suspects:  Three MHA, 20's.  One was wearing a blue bandana over his face, black sweatshirt, black handgun.  
2B / Perimeter – K9 Deployment / Mabel & Cathcart / 1747 hours / 19-119434
NGET officers observed a known parolee-at-large hanging out in front of a residence with known gang members.  When officers went to contact him he ran and jumped into the backyard of a nearby residence.  A perimeter was established quickly with SSD STAR overhead.  After multiple announcements, K9 began to search and located the suspect hiding in a backyard shed. 
2C/Arden Fair/1901 Arden Wy # B/POD-(10851 Arrest)/0943 hours/19-107055
A Lexus hit on the Arden Mall/Sears Driveway POD and pulled into the mall parking lot.  Before officers arrived, the vehicle occupants were out on foot, and across the street, away from the mall.  With the assistance of Arden Mall Security and SSD, the occupants were located in the Kohl's Department Store.  Video surveillance identified the driver, who also had the keys in his possession.  The keys had been obtained from a vehicle burglary in which the suspect(s) had returned and taken the car this morning.  The driver, an adult, was booked at jail while the passenger, a juvenile, was cited and released to his mother.
19-107797 / Robbery / 1800 block of Del Paso Blvd
2049 Hrs / Old North Sacramento (2C)
The victim is 78 years old.  He was hit in the back of the head by an unknown blunt object.  The suspect then rifled through the victim's pocket, stealing $20-30.  The suspect then fled, possibly in a brown car.  There are no leads at this time and the victim is not seriously injured.
UI (county) / Gun & Narcotic Seizure / 1329 Morse Ave / 1406 hours / 19-112144  **ATTN PIO**
NGET and NPOP conducted an attempt-pickup of a known subject on PRCS and with a felony warrant was at the location.  (Andrew Sandoval, 2/18/94)  With the assistance of K9, SSD STAR & AIR1, a surround and callout was conducted.  After about an hour of announcements the suspect finally surrendered.  Officers conducted a search of the residence and located 2 handguns, 2 assault-style rifles, 1 shotgun, 1 rifle and over 1000 rounds of ammunition in the attic.  They also located 7 pounds of methamphetamine, ¼ lb. of heroin and approximately $30-35,000 in cash in the attic.  Sgt. Villegas did an excellent job directing his team and resources to a successful conclusion. 
2C/Business 80 (WB) & Marconi Ave./447R-(Arson Report-SFD)/0733 hours/19-115292
Units responded on a report of a fire on the bike trail near Haggin Oaks.  Officers arrived to find propane bottles being used in a transient camp exploding from unknown causes.  With the help of SSD and CHP, officers blocked off the Marconi offramp area and the Fire Department arrived and quickly extinguished the flames.  Arson investigator A. Nokes (Arson 3) responded to take over the investigation into the source of the fire and the resulting propane explosions.          
19-115757 / 242 / 1689 Arden Way / 1638 hours
Arden Mall (2C)
Call came in as an active 242 in the mall involving over 100 teenagers.  Once a Reserve officer arrived on-scene, most of the group scattered in different directions and cleared off mall property. One MBJ returned to the mall with nefarious intentions and was detained by security.  The Juvenile refused to ID himself, refused to leave the mall, and after repeated attempts to gain compliance and to obtain his information for a No Trespass Form to no avail, he was detained in cuffs and brought down to the security office. SPD officer aided with identifying the juvenile who was released to his parent after the issuance of a 602.
April, 5, 2019
District 1
19-96256 / 2941 Advantage Way / 1A / 459-Auto / 2136 hours
Victim parked his vehicle in the IHOP parking lot and went inside to eat.  Upon his return he discovered his vehicle had been 459 and his .40 cal semi-auto pistol had been stolen. 
1A/Natomas/3651 N. Freeway Blvd. (Off Broadway Shoes)/459P-(Burglary Business)/0827 hours/19-97737
Officers responded to the DSW Shoe store regarding a possible 459.  Upon arrival officers located a broken window big enough for entry to be made.  Officers cleared the business but did not locate any suspects.  Employees advised several pairs of shoes appeared to have been taken but they would need to do inventory to determine how much was taken. 
DISTRICT 2
19-100118 / 4405 Rio Linda Blvd / 1338 hours
Robla (2A)
This is a PG&E Water Treatment Facility. Comp came to the location to get some equipment and noticed a significant amount of property was stolen from the facility, estimating approximately 150K in equipment.
19-95498/921P/Fairfield and Lampasas/2B/1121 Hours
The owner of a vehicle called police when she saw an unknown subject breaking into her car. Units arrived on scene and detained the suspect. The suspect had removed parts from the vehicle, which were found on his person. Jonathan Moore (10/21/64 X-646416) was arrested for 459 PC.
19-98158 / Traffic Stop & Foot Pursuit / Del Paso Blvd & Eleanor / 1704 Hours / 2B
Officers conducted an enforcement stop at the above location.  After attempting to lie about his identity, the front right passenger attempted to flee on foot.  Officers gave chase and quickly apprehended the subject without further incident.  The subject was found to be a Parolee at Large and had methamphetamine in his possession.  He was arrested on his warrant and drug charges.
19-98542 / POD / Silver Eagle Rd and Norwood Ave
2330 Hrs / West Del Paso Heights (2B)
Ofc. Smalling was in the area when a stolen car passed through the POD.  He quickly located the car and took the driver into custody without incident.
19-98537 / Foot Pursuit / 1500 Block of Sonoma Ave
0248 Hrs / Hagginwood (2B)
Officers responded regarding a possible burglary suspect from an incident in February.  Upon arriving, the suspect fled out a back window.  Officers quickly set-up a perimeter and after a little digging discovered that the suspect had an active felony warrant for a different burglary.  While K9 was searching the perimeter, the suspect fled multiple times.  Due to really good perimeter tactics, units were able to eventually apprehend the suspect.  Once arrested for his warrant and 148, it was also discovered that he is not only a suspect in a burglary, but also possibly involved in a sexual assault (SACA being advised by Sgt. Longanecker).  The North Area and Downtown officers demonstrated great patience and discipline on this call.
19-99433 / Felony Assault / 3000 block of Sendero St
1959 Hrs / Hagginwood (2B)
Officers responded for a subject who had a severe arm injury, possibly from an assault. After officers obtained  the information for the report, the subject left in an ambulance for treatment. For an unknown reason he then became upset with the medic and punched him one time before fleeing from the ambulance. Officers responded again and this time he took a fighting stance with them. Officers deployed a taser and effectively took him into custody.
19-100827 / Pursuit / Rio Linda Blvd and Eleanor Ave
0220 Hrs / South Hagginwood (2B)
Officers broadcast information on a stolen vehicle that had passed through a POD here. Ofc. Maclean was able to locate the car a short time later and it immediately turned into a pursuit.  After about 5 minutes officers lost the car and the suspect escaped.
2B/South Hagginwood/Diamond Ave. & Pamela Drive/Tstop-(Foot Bail: 10851 Arrest)/0427 hours/19-100851
Late Watch Officer Macclean (1A26) observed a White Honda Accord (#7HJK173) driving erratically and attempted to stop it.  The vehicle immediately sped around a corner and the four MBJ occupants fled out of the car on foot near the levee. District 1 and 2 units moved in quickly and working together apprehended all four occupants.  A replica Glock (BB) handgun was located inside the vehicle. Great work by Officer Maclean and all involved.  The vehicle was found to be stolen.
2B / Robbery / 2541 Del Paso Blvd (SJ Dollar Plus) / 1754 hours / 19-101602
A M/B/A, mid 20's wearing a red/black jacket,  black pants and a black mask entered the store and said he had a gun.  He took $400-$500 in cash and fled on foot.  He was last seen running and jumping neighborhood fences.  Officers checked the area but did not locate the suspect.
19-101852 / 215 / 2000 block of Traction Ave / 2B / 2233 hrs
The victim met some friends at the Red Roof Inn (Watt/Longview) and helped them move some belongings to Traction Ave.  While unloading, the victim noticed his friend Monica on her phone and then walk away.  Moments later, Monica's husband arrived and pointed a handgun at the victim.  A second suspect showed up and was also armed with a handgun.  S2 struck the victim on the head with the handgun.  The victim dropped his car keys and ran away.  The victim's vehicle and cellphone were taken from the scene.  The victim knows one of the suspects by a nickname and can ID both of them.  215 vehicle is a 2004 red Honda Odyssey 5FZC924.
2B / Pursuit / Eleanor & Altos / 1422 hours / 19-102551
SWAT officers observed a vehicle driving recklessly in the area.  When they tried to stop the vehicle, the driver took off and led the officers on a short vehicle pursuit up the bike path.  The driver foot-bailed from the vehicle and a perimeter was quickly established.  As officers were about to start a K9 search, the suspect surrendered without in incident.  The driver (Donald Dibble, 5/2/79) was arrested for evading, resisting, narcotics possession and violation of probation. 
19-103035 / SHOTS / 3500 block of Taylor St / 2B / 2113 hrs
Officers responded to a four round activation and located four 9mm spent shell casings on the sidewalk.  Residents noticed a man walking nearby wearing a hoodie and a dark colored sedan driving by after the shots were heard. 
19-103077 / 594 / 901 El Camino Ave / 2B / 2202 hrs
A man was under the influence of narcotics and jumped on a couple vehicles.  He then climbed on the roof of Popeye's Chicken until Air1 convinced him to come down.  He caused some damage (over $1,000) to some light fixtures at the business.  He had to be medically cleared before his trip to jail.  Officers are still at the hospital waiting for him to be checked out by a physician.
2C/Woodlake/Arden Way & Oxford Street/927P-(Wanted 211 Suspect Arrested)/1054 hours/19-10190
Sergeant Nutley (2SM2) was in the area when he spotted a 211 strongarm suspect from an IB put out by Det. Pullen yesterday (Case #19-93245).  The juvenile suspect saw Sgt. Nutley's police car and started to walk away.  Sgt. Nutley quickly called in additional units and waited until sufficient units were nearby.  The suspect started to run as units closed in but tripped and was apprehended near his home at Del Paso Blvd. & Fairfield Street.  The suspect also had a 602 W&I warrant.  He was arrested for the no bail warrant and taken to Juvenile Hall and detectives were advised for follow up.  Great job by Sgt. Nutley and his team.
19-100743 / Robbery / 1300 El Monte Ave
2306 Hrs / Old North Sacramento (2C)
This location appears to be a marijuana dispensary.  A group of subjects attempted to burglarize the location when security confronted them.  One of the suspects pointed a gun at the security guard and demanded his property.  They then all fled possibly in a newer, grey Mazda.  The security guard was not hurt and it does not appear like the suspects made entry into the location.
19-102394/211-Strong arm/1870 Arden Way (Hobby Lobby) 2C/1205 Hours
Two MBAs enter the store and proceed to check out concealing items without paying. When they are confronted, they make their way for the front door. An employee tried to stop them, and one suspect rammed the cart into the employee which knocked her to the ground. The suspects fled into a lime green 70's Monte Carlo with green rims.
19-96526/459P/2360 Harvard Street/2C/0401 Hours
Ofc. Tsverov and Ofc. Smalling responded to a burglary alarm at 2360 Harvard Street which is a marijuana delivery business. When officers arrived on scene, there were three MBAs breaking into the business using a prybar while a fourth MBA was seated in a parked car.  Officer Tsverov was able to detain the driver, Diandre Elliott (X-4551827) while the other three subjects took off on foot running east and southbound. Officer Smalling observed the subjects jumping the fence into the tow yard at xxxx Silica Ave. Units from D1, D2, D3, and D6 responded to assist with the perimeter.  SSD K98 and SPD K913 also responded to the scene to assist. Once the perimeter was set, Ofc. Greg James talked to the private security and confirmed that they had heard noises along the fence line with xxxx Silica Ave.  As Ofc. James checked the fence line, he located subject, Andre Smith (x-4795929) trying to hide in the bushes. A third MBA came out of the perimeter and was detained by Ofc. Hoh, who was at the Arden Way exit ramp.  The subject was identified as Isaiah Mitchell (X-4971705).Due to the possibility of tow company staff being on scene, K913 and additional officers conducted a line search of xxxx Silica Avenue. When they got to south end of the yard, the fourth MBA exited the unlocked vehicle he had been hiding in. The subject was identified as Devin Benjamin (x-5014787). The business had numerous video surveillance cameras.  Officers were able to watch the video surveillance and confirm the correct suspects had been detained based upon clothing. The four suspects were transported to SCMJ and booked.
March 29, 2019
DISTRICT 1
19-82541 / Burglary / 4710 Natomas Blvd 0105 Hrs /
1A Officers responded to reports of a van ramming the doors to the Little Caesar's Pizza. The owner watched on his surveillance camera as three suspects then ran in and stole the safe. The van fled after that. While we were investigating, Yuba County Sheriff's Department called advising they had an attempt earlier in the night in Olivehurst. The van returned stolen out of Yuba City. At 0315 hours we were advised that CHP had located the vehicle abandoned and we are currently working on getting access to it. The owner of Little Caesar's advised they had another store in Antelope that was hit the same way 2 weeks ago. They all appear related to the same suspects. Still under investigation.
1A / Gun Arrest / 3601 Truxel Rd / 1621 hours / 19-86673
Officers responded to a fight at Applebee's. While officers were detaining one of the suspects they located a small semi-auto handgun in his front waistband. The suspect (Shane Spence, 11/26/88) was arrested on firearm related charges. 1A / Robbery – Knifepoint / 4500 Block of Gateway Parkway / 1758 hours / 19-87930The victim was robbed at knifepoint at the Terracina Gold Apartments. The suspect (MBJ, 5'5, med build) was armed with a 10" knife. He was with three other suspect (1 MHA, 2 MWAs) at the time of the robbery. The suspect stole the victim's I Phone 6s and during the incident sustained a laceration to his head after the suspects assaulted him.
19-94235/211/3500 Block of Truxel Road/1A/1110 Hours
A UPS driver was unloading several boxes of new phones to take into the store when two MBAs with hoods knocked the driver to the ground, picked up several boxes of phones and left in a black colored Audi Q5 with no plates. A good Samaritan ran over to the UPS driver to make sure he was okay after he saw him get knocked to the ground, then bum rushed one of the suspects knocking him into the side of the UPS truck. The suspect managed to escape but per a witness he hit his head so hard that he may end up at a hospital. RTCC was asked to look at video from the POD at Truxel/Gateway. Outside agencies were given info about the vehicle.
19-83672 / Stolen Vehicle / Northstead Dr and Edmonton Dr0006 Hrs / Northgate (1C)
Ofc. Littlefield and Ofc. Farr observed a car driving somewhat suspiciously, as if it was trying to avoid them. They were able to catch up and stop the car, which had no plates. The driver is a probationer with gang ties, so after he was detained a records check revealed the car was stolen. Great spot by these newer officers!
1C / Foot Pursuit / Gardenland Park / 1644 hours / 19-88929
Officers responded to a call of adults hanging out around the kids area of the park acting suspicious. As officers arrived, one subject took off running and was quickly taken into custody without incident. The subject was found to be a parolee-at-large. (Anthony Broadway, x-1370489)
1C / Felony DUI / Northgate & Harding / 1722 hours / 19-88972
A solo vehicle struck a SMUD pole. It was determined the driver was DUI and had her two teenage kids in the car. One of the kids sustained minor injuries to his face. Both the suspect and one of her children were transported to the hospital. The driver was arrested for felony DUI.
DISTRICT 2
19-81324 / 415W / XXXX Taylor St / 2A / 2014 hrs
Sgt Griffin and his team responded to this address for a man who was terrorizing the neighborhood with three aggressive dogs. Officers determined no crime was committed but the man was hostile and under the influence of narcotics. The man's brother arrived and debriefed the officers on his erratic behavior and very aggressive dogs. The man was in his truck camper and finally came out after about an hour of officers arriving on scene. He was taken to the hospital for a 5150 evaluation and animal control took custody of the dogs. The officers/Sgt showed tremendous patience on this incident.
19-81411 / 415W / 1400 Block of Ascot Ave / 2A /2211 hrs
This is the same house that had a large party last night. Tonight the party involved a live band and was attended by about 150 people. Initial complaints were due to subjects loitering in the neighborhood. Another call came in around 0130 hrs, stating there was a man at the gate with a firearm. Officers arrived on scene and contacted two subjects walking down the street. One of the subjects threw a handgun into the bushes when they saw the officers. Both were detained without incident. We believe that the two suspects were going to rob the homeowners of money they thought was earned from the parties this weekend. The homeowners detained charging for admission and did not know why the suspects chose their home. Officers arrested one suspect for possession of a firearm.
2A/Del Paso Heights/3600 Block of Rio Linda/927P-(Fugitive Arrested)/1409 hours/19-84202
The FBI JTTF (Det. Beezley & company) were in the area looking for fugitive Shane Pellandini, who was wanted on a fresh warrant from a Roseville PD incident last night where he fought RPD and fled. RPD recovered two firearms during their investigation, but Pellandini got away. JTTF did follow up and located Pellandini in a vehicle in the area of Rio Linda & South in the north area. SPD K9, AIR 1, and North GET responded to assist and attempted to contact Pellandini at Rio Linda Blvd. & Elkhorn. A short foot pursuit followed and Pellandini was taken into custody without further incident. Pellandini was in possession of methamphetamine at the time of his arrest and incurred additional fresh charges.
19-90344 / 496B / 3800 Roseville Rd / 2A / 2246 hrs
A 459 auto bait laptop was taken from a vehicle parked at this location. Officers were able to track down the suspect along with the stolen laptop. The suspect was taken to jail for the theft.
19-90428 / 459 Business / 4300 Block of Raley Blvd / 2A / 0053 hrs
A security guard responded to an alarm call and noticed a hole in the door large enough for entry. The suspect(s) were able to take the roll up door off the tracks and made entry to the building. This business is a marijuana dispensary. Nothing was stolen and the suspects were gone upon arrival. It is possible that the audible alarm scared the suspects suspect(s) away.
2A/Del Paso Heights/XXXX Cypress Street/927P-(Pursuit: Suspect Arrested)/1031 hours/19-90718
Officers had contacted and identified Suspect Albert Aranda as a probationer with priors for theft earlier today on a call near this location; he was not wanted at that time and released after being ID'd. While on an unrelated call for service, Ofc. Goodpaster recognized Aranda and saw him walking up a driveway about five houses from her location. She saw him get into a Blue Chevy Camaro (Lic# 5BRS366) and take off in it. Knowing that Aranda did not live there, Ofc. Goodpaster immediately got into her squad car and began to try and catch up to the known probationer. Other officers confirmed with the home owner where the Camaro had been parked that the keys had been left in the car. K9 and other units caught up to Ofc. Goodpaster as she initiated a pursuit of the now stolen vehicle. The chase headed west on West El Camino Ave. and ended up on the freeway. Speeds reached 114 MPH in the fast lane with traffic light to moderate and yielding. CHP took over the pursuit on westbound I-80 at Davis and SPD units dropped out. CHP chased the suspect to Vacaville and applied the PIT a couple of times. The suspect finally foot bailed and was apprehended by CHP officers. He was transported back to Davis and handed over to SPD for booking.
19-93732 / XXXX Roanoke Ave / 2A / Shot Spotter / 2239 hours
SPD responded to 1632 Roanoke Ave regarding a one round shot spotter activation. Officers located two .10mm casings in the street but were UTL any victims. Witnesses advised a white pickup truck had been seen driving through an alley after the shooting. Investigation by North-GET Shot-Spotter officers.
19-93748 / XXX Eleanor Ave / 2B / Shot Spotter / 2249 hours
SPD responded to 610 Eleanor Ave regarding a one round shot spotter activation. Officers located a vehicle with a gunshot hole in the windshield. A female on scene advised a "friend" had accidentally fired a handgun from inside the vehicle. Investigation by North-GET Shot-Spotter officers.
19-81562 / SHOTS / 1200 Block of Acacia Ave / 2B / 0054 hrs
Two SHOTS activations were received for this location. Officers arrived to about 100 people leaving a party. Officers located two scenes and two victims that were shot. Nobody on scene would provide any details of the incident. A majority of the party-goers were teenagers and there was mention of a graduation party. One victim is stable and the other is in surgery and expected to recover after a few days in ICU. Sgt MacAulay did a great job of supervising a hectic crime scene as officers responded from the entire city.
2B / Robbery – Cannabis / Acacia & Altos / 1724 hours / 19-87903
A marijuana delivery man from a Dispensary was transporting about $500 in cannabis to XXXX Altos Ave. He went into the residence and 2 MBAs in their mid-20s, jumped him and stole the marijuana, wallet and cell phone. The suspects fled on foot on the nearby bike trail. Officers made contact with a subject at the residence who stated he was just letting the guys hang out but really doesn't know them. The victim was not injured during the incident. Officers are currently working with the victim on locating the phone but are having trouble narrowing down a location.
19-88632/415F/3500 Block of Marysville Boulevard/2B/1136 Hours
Officers responded to this location regarding a disturbance and a family member in need of a 5150 evaluation. When Officers Henderson and On arrived on scene, they observed the male subject in the front yard carrying a large kitchen knife. When he saw the officers, he immediately became agitated, walking towards them yelling at them to kill him. Officers de-escalated the situation and safely took him into custody without incident. The subject was placed on a 5150 hold and transported to Kaiser North for evaluation.
19-90203 / SHOTS / 2500 Block of Oakmont St / 1954 hours
Old North Sacramento (2B)7-round activation where officers located 5- 9mm casings and a witness stating they saw a MBA running w/b over the bike trail. There was one bullet hole located in a black Buick parked about 10 feet east of the first casing located. It appears the suspect was moving w/b while shooting back e/b. No victims were located.
19-92412 / Shooting-2 in-custody / XXX Nogales St / 2235 Hours / 2B
Four shot-spotter activations were received near the above location which was followed by a Complainant calling to report that approximately 20 rounds were exchanged between several subjects in front of XXX Nogales. Officers arrived on scene and located approximately 20 spent casings of various calibers. Thankfully, no one injured or struck by the gunfire. Follow-up investigation led to one firearm being located and two suspects arrested for negligent discharge of a firearm. The suspects, both Parolees, were GSR positive in the field and statements obtained implicated them both.
2B / ShotSpotter – Gun Arrest / XXX Sonoma Ave / 1841 hours / 19-94788
Officers responded to a 2-round activation and multiple callers about a subject shooting in the back portion of their yard. As officers arrived, several subjects began coming out of the rear residence on the property. 2 subjects fled out of the residence and began hoping fences. The subjects popped out on a surface street and were detained. Officers located 2 shell casings near the door where the subjects fled. Officers conducted a probation search of the residence and located a firearm matching the caliber casings that were located. One subject was arrested for negligent discharge of a firearm and resisting, another was cited for resisting arrest and a third subject was cited for possession of narcotics. Great follow-up and teamwork by patrol and GET officers!
19-83069 / 245 stabbing / 1000 Block of El Camino Ave / 1409 hours
Old North Sacramento (2C)A female victim reported that she was stabbed while she was sleeping. Officers arrived and found she had a one inch laceration to her arm. The suspect was described as a MB50s, approximately 5'3, thin, wearing a red beanie and a black cap. Last seen heading toward the Swanston Light rail station. Officers checked the area with negative results.
2C / Assault & Robbery / 1900 Block of Rockbride Rd. / 1226 hours / 19-85243
Officers responded to the area after receiving multiple calls of subjects fighting, some armed with weapons. As officers arrived, multiple MBJs and FBJs began running away on Ethan Way, some jumping fences into nearby neighborhoods. A few of the juveniles were detained and it was discovered that the kids were from Eleanor Hickey HS in the County. They followed and assaulted a MWJ at the location. The suspects were seen by witnesses stomping on the victim's head so they tried to intercede. The juveniles then assaulted the witness who was trying to stop the assault. She had her cell phone taken out of her hand and was never recovered. Officers identified 3 of the primary suspects, including the female who stole the phone. The victim of the assault was never located as he fled the scene before officers arrived. This call tied up a number of resources for an extended period of time.
2C / Stabbing Arrest / 2400 Block of Evergreen St / 1555 hours / 19-86637
Officer Mueller conducted follow-up on a stabbing that occurred 2 days ago where he took the initial report. (19-83069) Yesterday he detained a subject in the same area as to where the stabbing occurred with a knife in his possession. Today, Ofc. Mueller constructed a photo line-up containing the suspect, met with the victim who ultimately positively identified the suspect (Robert Crittle, 5/1/59) as the person responsible for the stabbing. Ofc. Mueller notified swing shift units of the probable cause want on Mr. Crittle. Within minutes, Ofc. Hamilton found Mr. Crittle and arrested him without incident for the stabbing.
2C / Stolen Vehicle / xxx Commerce Circle / 1612 hours / 19-88889
An officer observed a vehicle parked by itself at the above location. The officer conducted a records check on the vehicle and found to be stolen. The driver was detained without incident. Narcotics and paraphernalia were found in the vehicle. The vehicle was found to be stolen out of Vacaville. (Arrested: Manuel Correa, 10/7/66)
2C / Assault / 1689 Arden Way (Arden Mall) / 2018 hours / 19-89141
An officer working supplemental employment at the mall advised that 30+ kids were inside trying to fight each other. Officers and security were able to get the subjects to disperse and got them out of the mall. The groups continued to instigate and taunt each to fight. SSD units responded to assist with the disturbance. No arrests were made.
TRAFFIC UPDATE
Date: Thursday 3/28/19
District: 2 Staffing: James, Callaghan, Butler, Armstrong
Results: 70 vehicle stops, 1 ped stop, 57 cites, 2 tows:
Stop sign Jamestown/Waterford. (Murrietta)
Stop sign Bowling Green/Middleberry. (Murrietta)
Stop sign Bowling Green/Ray.
Stop sign Ethan/Cottage.
Distracted driving along the Arden corridor.
Speed enforcement on Evergreen between Royal Oaks and Arden Way. (community complaint)
Speed enforcement near 1416 Los Robles. (community complaint)
Speed enforcement on Del Paso Blvd between Marconi and Marysville. (Heinlein)
Speed enforcement along the Marysville corridor.
General enforcement at the following high 901 locations per crime analysis: -El Camino/Del Paso -Speed enforcement Clay/El Camino.
Vehicle/Pedestrian compliance Plaza/Del Paso.
Speed enforcement Dry Creek/Ascot.
General enforcement Jessie/Norwood.
Stop sign enforcement Grand/Mahogany
General enforcement around 2400 Del Paso Blvd.
General enforcement on Rio Linda Blvd between Grand and Plaza.
Speed Enforcement along Norwood south of I-80
Schools:
James was present at DW Babcock Elementary in the am.
Callaghan was present at Hagginwood Elementary in the am.
Butler was present at Robla Elementary in the morning.
March 15, 2019
District 1
19-74892 / Business Burglary / 3810 Truxel Rd 0250 Hrs / 1A
The Cosmo Prof business at this location had the front glass smashed and was burglarized. Officers are still trying to determine what was stolen other than some expensive hairdryers. A witness did see a silver Mercedes leaving the area.
19-75403 / ATT 211 / 2050 Club Center (CVS) / 1435 hours Natomas Park (1A)
Multiple callers called 911 to report an attempted 211 at the CVS Pharmacy. Two MBA's jumped over the pharmacy counter simulating a handgun and attempted to steal prescription pills from the business. The narcotics were secured in a time delay safe an no narcotics were actually stolen. During the incident, one suspect did assault one of the pharmacy employees, who did not need medical aid. Both MBA's fled on foot in an E/B direction.
19-73199/POD/Silver Eagle and San Juan/1B/1039 Hours
Units were alerted to a 10851 going through a POD. The vehicle was located, and the driver was arrested for 10851 VC and 496 PC.
19-75918 / Shooting / 3300 block of Bridgeford Dr 0117 Hrs / South Natomas (1B)
The victim was sitting in his car when the suspects tapped on his window. It appeared like they were attempting to rob the victim, but a struggle ensued and multiple shots were fired. The victim was hit one time (not critical). The victim did not provide any further info, but it is obvious due to different shell casings and groupings, that there were at least two shooters with one party probably being with the victim.
19-77993 / Robbery / 1369 Garden Hwy 2052 Hrs / 1B
The victim was in the parking lot at Chevy's on The River, when he was knocked down from behind. He had $400 cash stolen, as well as an iPhone. The victim believes the suspect was likely transient. The victim was not hurt.
1C / Homicide / 1400 Northgate / 1226 hours / 19-73299
Park Rangers were hailed by a witness who discovered a deceased female at a nearby camp. Homicide Detectives responded and took over the investigation. The Coroner has not identified the victim at this point.
1C/Gardenland/Northgate Blvd. & San Juan Road/POD hit-(Stolen Vehicle Arrest)/0859 hours/19-75038
Officers responded to the above area after receiving a POD hit on a stolen Toyota Camry. Ofc. Woo located the vehicle as it began going westbound on I-80 from Northgate. Once sufficient units arrived on scene they conducted a felony stop on the vehicle at Truxel Road & San Juan Road. The driver was detained without incident and identified as Daniel Trinidad (Xref-4153428). He was booked for 10851 VC.
19-76378 / 459 veh / 3625 Northgate Blvd / 1309 hours Northgate (1C)
The (V's) were travelling thru Sacramento and pulled into the Food Co shopping center to get food and upon returning to their vehicle were victims of a window smash where property was taken. Shortly thereafter, we received information from the (V's) that their credit card was being used at the Apple store at Arden Mall. Updates then showed their accounts being used at Nordstrom's. Officers quickly descended upon the area although the (S's) had already left. Arden Security identified (S's) as a MBA/FBA, in a silver 2000's Toyota 4d w/paper plates. The (V's) lost an Apple Tablet, Iphone, Air Pods, Camera and 2K in cash.
DISTRICT 2
19-74542 / 245 / 3700 block of Clay / 1738 hours Del Paso Heights (2A)
The victim reported that a known female transient had thrown a rock at him, causing a cut on his cheek. Officers Oldes, Howard, and Whitaker located the suspect in the neighbors backyard, and took her into custody without incident.
19-74620 / 211 (gun) / 1500 block of Bell / 1850 hours Raley Industrial Park (2A)
(V) was selling a tablet online and agreed to meet at the above location. As they were discussing money, (S) produced a handgun and took the merchandise, leaving in a dark sedan. (V) was able to produce a license plate (which appears to be the right one), and officers checked a location for the car with negative results. Further follow-up is being completed including a search for any video that might have captured the incident.
19-75893 / Felony Assault / 4300 block of Burgess Dr  0023 Hrs / Robla (2A)
The victim was hanging out with an acquaintance (suspect) when things got heated over money owed. The suspect became so upset about money the victim owed him, that he stabbed the victim through his hand. District 1 officers responded to the suspect's house, where he was arrested without incident.
2A / Burglary – Assault / 4800 Block of Dry Creek Rd / 1914 hours / 19-77901
A homeowner came home to find a male had broken into his home. When the homeowner confronted the suspect, he threatened him with a knife and fled from the residence. The suspect fled into a wooded area. The suspect was described as a M/H/A, 5'5, medium build, blk short hair, thin mustache, light blue shirt and blue jeans. It is unknown at this time if anything was taken from the residence.
19-78146 / Occupied Stolen Vehicle / Marysville Blvd and Claire Ave 0043 Hrs / 2A
Officer Hastings was patrolling in the north area when he located a stolen vehicle that had recently gone through a POD. The driver was taken into custody, without incident, after he drove down a dead-end road.
2B / POD – Stolen Vehicle / Rio Linda & Eleanor / 1604 hours / 19-73468
Officers were alerted to a stolen vehicle by a POD. Officers located the vehicle in the area and conducted a felony stop. The driver was arrested without incident and the driver was found to have an outstanding felony warrant.


2B/West Del Paso Heights/Norwood & Silver Eagle/POD hit-(Pursuit)/0817 hours/19-75003
Officers responded to the above area after receiving a POD hit on a stolen black Jeep Grand Cherokee. Ofc. Gray located the vehicle at a car wash at 3214 Northgate Blvd. When Ofc. Gray observed the vehicle there was a MBA outside of the car washing it. He requested more units to safely conduct a felony stop. As other units were arriving the MBA jumped back in the car and fled at a high rate of speed. Ofc. Prahl (Beat3) got behind the vehicle and initiated a pursuit. The suspect got on eastbound 80 and reached speeds over 100 MPH. The suspect then began driving on the shoulder of the freeway over 100 MPH. At that time, the pursuit was cancelled. The suspect then exited on to Marysville Blvd. where units were able to safely re-engage in the pursuit. The suspect went eastbound on North Ave. to Winters where he went back on the freeway. When the suspect exited Greenback and briefly drove on the wrong side of the road the pursuit was cancelled again by the involved officers. CHP later advised the suspect was still traveling at a high rate of speed on I-80 past Reed Ave. A short time later Sgt. Bevins (2SM1) was notified that Solano CHP had the vehicle and the suspects in custody after engaging them in a pursuit before ultimately performing a PIT maneuver to disable to vehicle. The female suspect was identified as Lily Blythe (DOB: 8/3/97). At this time the male half has yet to be identified but is in custody. Solano County CHP booked the pair for possession of a stolen car, the pursuit and a slew of traffic violations.
2B/Hagginwood/XXX Carmelita Ave./971W-(Weapons Arrest: PRCS Probationer)/1209 hours/19-76309
Complainant called in saying he observed a MHA in a black tank top with multiple tattoos wearing a handgun on his hip. Complainant got the plate of the silver Toyota Camry (Lic# 8EER235) that the suspect left in. Sergeant Nutley (2SM2) spotted the 2018 Camry at Rivera Drive and Rio Linda Blvd. with two subjects on board. Units arrived to assist. The driver, Raul Garcia (MHA) matched the description of suspect with the gun. Once detained, he advised that he was on PRCS probation but claimed he had no gun. Inside the car, officers observed a revolver in a black holster shoved into the backrest of the passenger seat just as a driver would do to conceal it from his position. Under Miranda waiver, the driver admitted to his prints being on the gun and having handled it, but stated that it was not his. He (Garcia) also had a felony warrant for his arrest. Great job by Sergeant Nutley and his officers.
19-76950 / Resisting Arrest / Acacia Ave and Rio Linda Blvd 2310 Hrs / South Hagginwood (2B)
Ofc. Dahl and Trainee Ofc. Dales contacted a subject for failing to have a bike light. When they asked for ID the subject began to move away as if he was going to flee. When they attempted to place him in control holds, he began to fight. They were able to detain him after a few moments. He was a recently discharged parolee who had narcotics in his possession. The suspect had a minor injury.
2B / POD – Stolen Vehicle / Silver Eagle & Norwood Ave / 1622 hours / 19-77693
Officer were alerted to a stolen vehicle in the area. Officers located the vehicle unoccupied at the AM/PM on Norwood. Officers detained two subjects that were loitering around the vehicle, one of which had the keys in her possession but claimed ignorance. Officers did follow-up at the business, reviewing surveillance footage and observed both arrive in the vehicle. The driver was ultimately arrested for 10851 VC. (Arrested: Jullian Randle, 9/26/92)
2B / Assault w/Deadly Weapon / 3296 Marysville Blvd / 1746 hours / 19-77797
Employees at the Quick Stop called to report a male being assaulted with a baseball bat in the parking lot. Officers arrived and detained all the parties without incident. The victim in the case was found to be the instigator who originally had the bat and hit the victims. The victims were able to get the bat away from the suspect and hit him multiple times. No medical aid was needed for any of the parties. (Arrested: Savon Johnson, 1/21/93 for 245 PC)
19-78490/480/Del Paso Boulevard and Palmer Street/2B/1124 Hours
Officers responded to a hit and run that had just occurred with a male subject lying in the intersection with significant injuries. He had been riding a bicycle when he was struck by a vehicle that fled the scene. He was transported to UCD. Officers were able to locate surveillance footage in the area that captured the event and were able to get out vehicle information. MCIU was advised of the event and patrol handled the preliminary investigation.
2C / POD – Stolen Vehicle / 1689 Arden Way / 1934 hours / 19-72685
Officers were alerted to a stolen vehicle in the parking lot of the mall. Security located the vehicle with their cameras on the 2nd story parking garage behind Macy's. Officers located the vehicle unoccupied and waited until the suspects came back to the car. The suspects were all juveniles and were detained without incident. The driver was arrested for auto theft.
19-75824 / Felony Assault / Colfax St and Arden Way 2226 Hrs / Old North Sacramento (2C)
The suspect had a minor fender bender with the victim, who was on a motorcycle. The victim followed the suspect, assuming he was going to stop and exchange info. The suspect then purposely tried to drive the victim off the road way. After the attempted assault, the suspect fled at a high rate of speed but failed to negotiate the roadway and crashed into the creek just off of Arden-Garden Connector. Luckily he was not hurt, but he was arrested.
2C/Old North Sacramento/Cambridge Street & Dixieanne Ave./927P-(Foot Pursuit-1203.2 PC Arrest)/1106 hours/19-77354
Ofc. Kraintz and Sandoval spotted a subject (MBA-6 ft. all black clothing) who resembled the outstanding suspect from a 459.5/211 PC at the Grocery Outlet on 2/26/19. They attempted to contact the subject who immediately ditched his backpack and fled. Ofc. Sandoval briefly chased the suspect who jumped a fence. Officers quickly set up a perimeter and requested air support and K-9. K-9 units and Air-1 arrived as a citizen pointed out where she possibly saw the suspect in a backyard. Announcements were made and K9 units started a search. The subject was located and immediately surrendered without any use of force. The suspect was identified as a probationer and various burglary tools were found in the backpack. Although he was eliminated as the Grocery outlet suspect, he was arrested for probation violation 1203.2A PC, 148a PC, and possession of the burglary tools. Great job by officers on a quick perimeter with excellent support by K-9 (including K9 Officer Mike Pinola's first week with his new K9 partner) and Air 1.
February Monthly Mental Health Statistics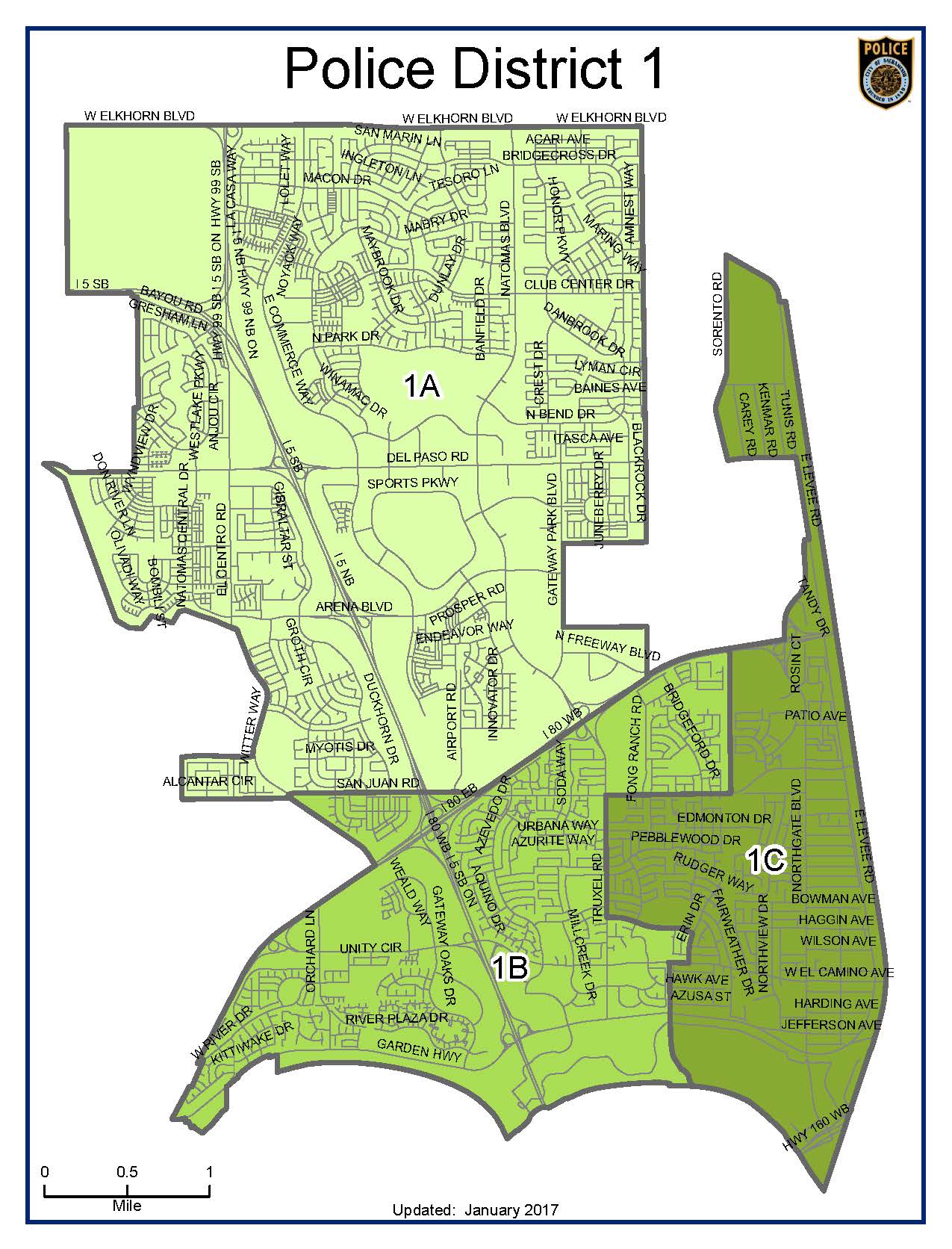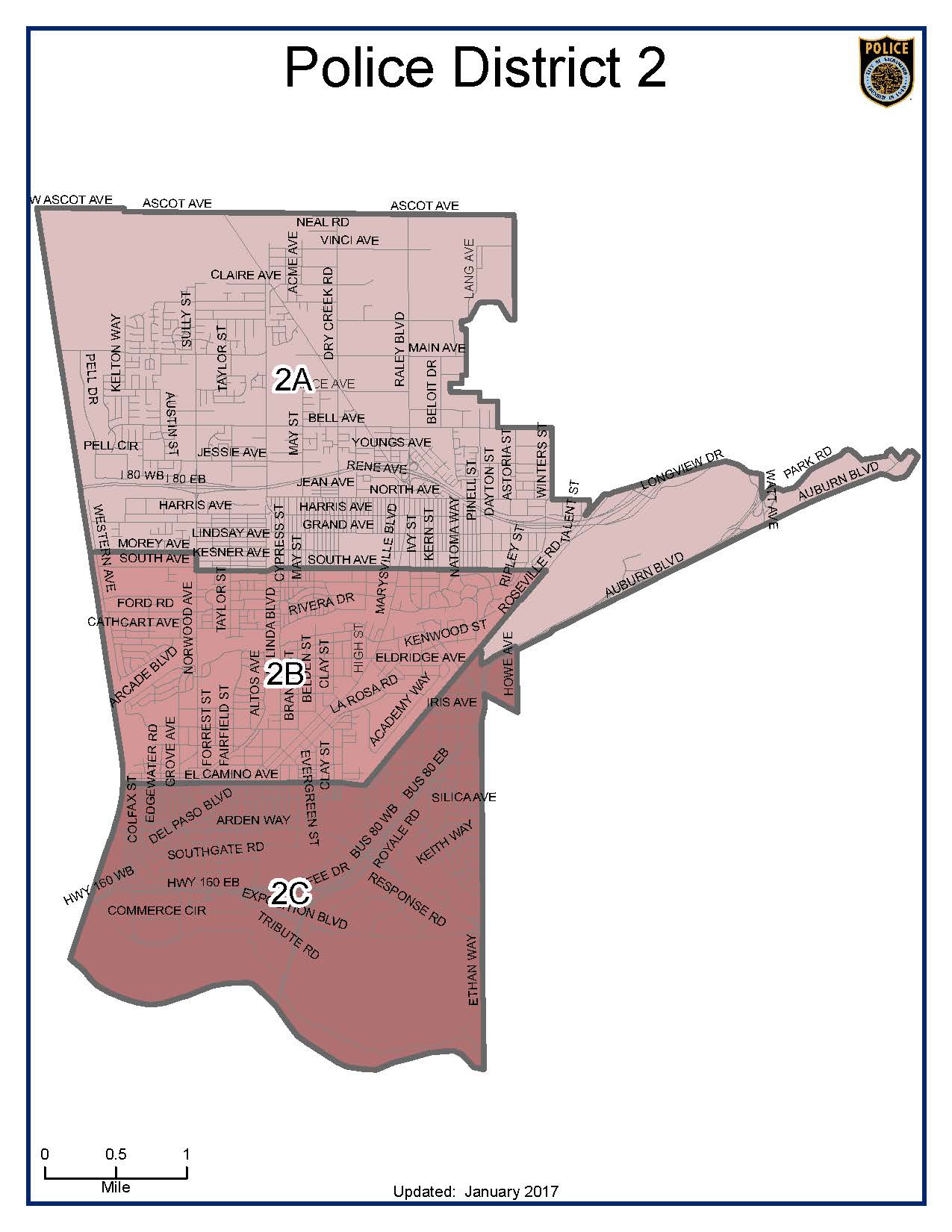 Geographic Lieutenants
1A – Roman Murrietta
1B & 1C – Ethan Hanson
2A & 2B – Bryce Heinlein
2C & Del Paso PBID – Rudy Chan